by Ian Norman
Setup Your Camera
I am going to suggest some settings that will be a good ballpark start for your exposure. You may not even have to change them for your final exposure but that will depend on things like moonlight, light pollution, your camera, and your lens. We will start here and adjust accordingly. You should be familiar with each of these settings and how to change them. If any of these settings are unfamiliar to you, review your camera's manual for how to change the setting.
Shoot in RAW recording mode

RAW image files contain more data than JPEG files and thus allow for greater flexibility in post-processing adjustments.

Zoom out to the widest field of view your lens supports (24mm or wider)

The wider field of view will reduce streaking of the stars due to Earth's rotation and will allow us to capture as much of the Milky Way as possible.

Manual focus

Use manual focus (M or MF) mode on your lens and set it to the infinity mark if possible. We will focus more precisely later.

Manual exposure

Set your exposure mode to Manual (M)

Enable long exposure noise reduction if available.

This will reduce grain on your photos by taking a second photograph without opening the shutter to record and subtract noise data from your image. Note that this will usually add additional wait time to each exposure before you will be able to use your camera again for the next exposure. If your camera takes particularly low noise images, such as a Canon 6D, you probably don't need to enable this feature.

Enable the histogram in the image review.

This will allow us to see a graphic display of our exposure and adjust accordingly.

Use automatic white balance.

Many things like light pollution or moonlight can change the white balance of the image so just set it to auto. Since we're shooting in RAW, we can make adjustments to the white balance later. If you're shooting a timelapse, a custom setting of 3900K or a setting of tungsten can prevent unexpected changes during the timelapse sequence.
Exposure Settings
The exposure settings that I recommend in a dark sky area are dependent on the type of camera and lens that you are using. Use the calculator below to determine the exposure that I recommend you use initially. Once you take your first exposure, you can adjust as necessary based on your exposure histogram.
Exposure Value:
-8.1 EV (Target is -8 EV)
1184
Note: This calculator is made to produce a neutral exposure in dark sky conditions. Results will appear brighter than natural but exposure can be pulled down in post processing. Astro Lens Score does not factor in camera sensor size.
Bottom of Form
The shutter speed is calculated based on the focal length of your lens and the size of your camera's sensor. Longer focal lengths and smaller sensors require shorter shutter speeds to prevent star trailing.
The f/number should generally be set to the lowest possible number, preferably f/2.8 or lower if your lens supports it. Lenses with f/numbers of f/4.0 or higher are not recommended.
The ISO is calculated based on your aperture and shutter speed but it's a little dependent on the noise performance of your camera. Start with the calculator's recommendation and adjust accordingly.
For a more complete explanation of how to figure out the exposure for shooting the Milky Way, visit my article on the Milky Way Exposure Calculator for a complete explanation of the calculations that are being used.
Focusing in the Dark
I like focusing before composition because it's generally easier to focus your camera first, tape your focus ring, and then re-compose later. In general, you will want to make sure your lens is in manual focus mode (M or MF) and is focused at infinity. But rather than just setting the focusing ring to the infinity mark (on some lenses) and forgetting about it, we will want to make more precise focus adjustments to ensure the best possible photo quality. Here are a couple methods that I use to focus in the dark.
Being able to focus on a distant artificial light (like your friend's flashlight) is very helpful when it's dark out.
Manual focus with Live View

This is by far the most accurate method if your camera supports it. Enable live view on your camera and use the focus checking or the digital zoom function on a bright star to make the star appear like a pinpoint. I recommend centering the star in the frame before focusing on it to have the most even focus field. Note that you may need to change the Live View settings on your camera to "exposure simulation" or "manual,"  in order to be able to see stars on the LCD. If you cannot see stars in the LCD, try focusing on a flashlight at a distance like in the method below.

Auto focus or manual focus on a flashlight that is placed far away (greater than 100 feet or so)

This can be an easy way to get your camera to focus at close to infinity in the dark but can be difficult if you don't have a helping hand to hold the flashlight for you. It's often best to place a flashlight next to an object in your frame that is at a distance of 100 feet or greater, the farther the better but after about 150 feet or so, it makes less and less difference. Plus, walking back and forth 300 feet just to focus your camera can be a drag. As soon as you get focus confirmation on the lit object, switch the lens back to manual focus (MF) mode to lock the focus at infinity, being careful not to twist the focus ring and mess up your focusing work. A flashlight can also be helpful if you wish to instead focus on a foreground object rather than infinity.
Regardless of the method of focus, make a test shot of the stars with the exposure settings above to check your focus. Zoom the LCD all the way into the image review to make sure that the stars look like pinpoints, if they are out of focus circular blobs, re-focus and check again. Always zoom the LCD into the preview review to check the focus, don't take the initial thumbnail at face value. Once your shots are in focus, a piece of electrical tape or gaffer's tape between the focus ring and the lens body can help prevent you from bumping the focus.
Understanding the Histogram and Adjusting Exposure
The settings that you calculated above when we setup your camera should be a good start. Once you are satisfied with your focus and your framing, the next thing is optimizing your exposure. This is where we will review the camera's histogram information (The histogram is usually available by pressing "INFO" or "Display" or Up/Down arrows when reviewing photos. It really depends on your camera so check your instruction manual.)  Typically we will desire a histogram that shows peaks toward the center of the graph from left to right. See below for examples of histograms for various exposures of the Milky Way.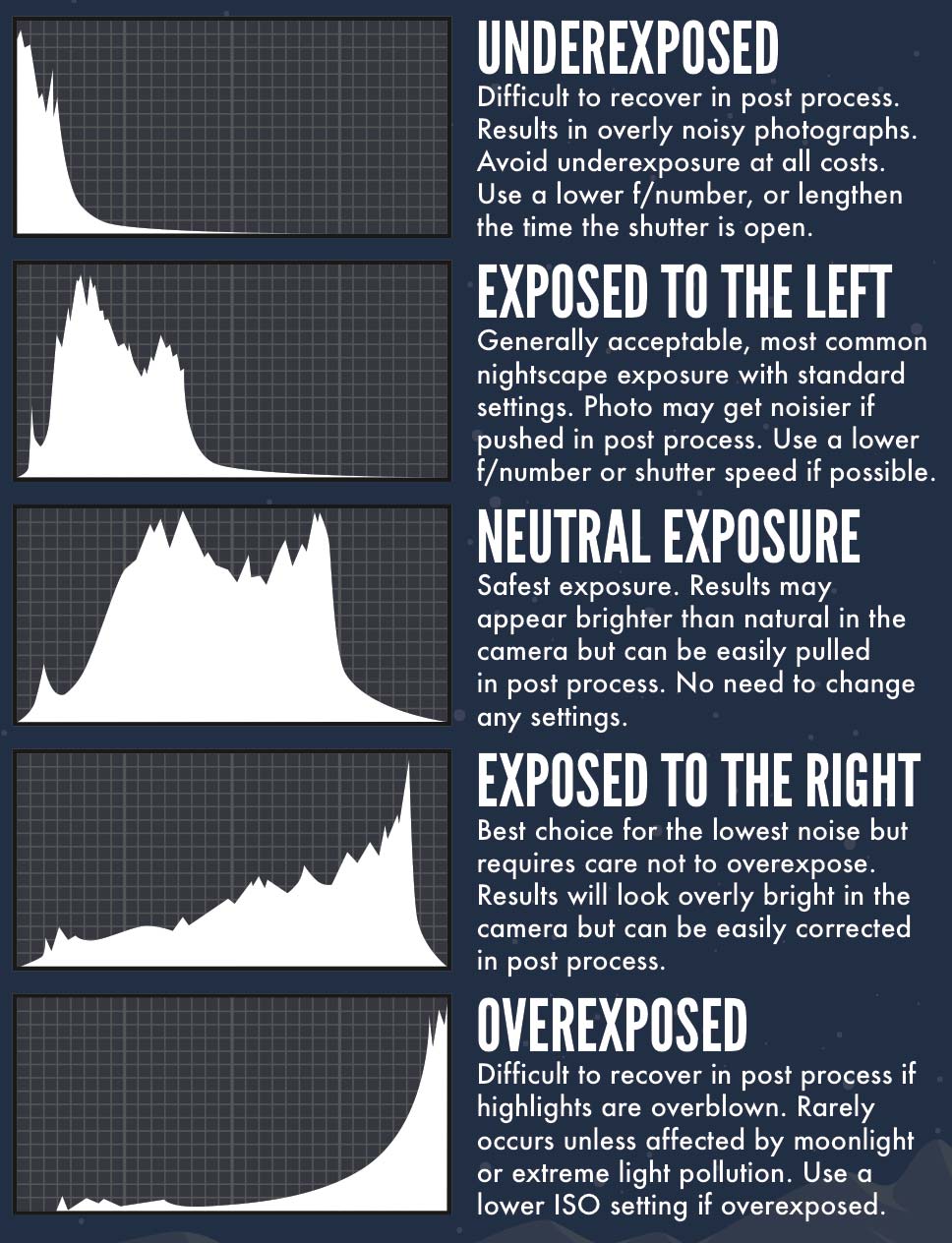 Try to push your camera to the limits of its light gathering capability without compromising quality. Check and re-check your image review, zoom in on the LCD to check focus, review the histogram for exposure information and re-compose your frame throughout the night. Once you find an exposure you like, you can usually maintain the same exposure throughout the night.